ADT Commercial Fire Protection Master Subcontract Agreement
For nearly 10 years, LSS and RedHawk have worked together to ensure facilities across the country are in compliance with local and state fire codes. We're excited to expand this partnership with ADT Commercial.
In this partnership, we arm you with the critical fire safety service offerings you need to satisfy your clients and your own sales goals.
We're excited to empower you with the best resources, sales enablement, training, and customer success network in the business so you can obtain more clients and build a better customer success experience.
Here's what your Account Executive will do for you:
Provide a customized quote for each opportunity as requested
Partner with Sales Reps in the field for job walks, bid reviews and customer meetings
Review plans and drawings
Provide in-field training, group training at branches and field offices
Our bags are packed and we're ready to go!
Service Offerings
The NFPA states that should a damper be found deficient during routine maintenance and inspection, repair should begin as soon as possible. Per requirements of NFPA 80 and NFPA 105, LSS repair services can ensure your dampers are working properly and are code compliant. Damper repair services include:
Fire and smoke damper inspections
Damper repairs

Adjustments to damper linkage
Adjustments to internal components to allow closure
Adjustments and repairs to damper tracks that are binding and prohibiting closure
Repairing broken tabs on damper
Complete damper replacement

Rolling door inspections and repairs
Swinging door inspections and repairs
Firestop survey & installation
Duct cleaning
Web-based reporting software via LSS Site Surveyor® with before and after photos and additional information about the repair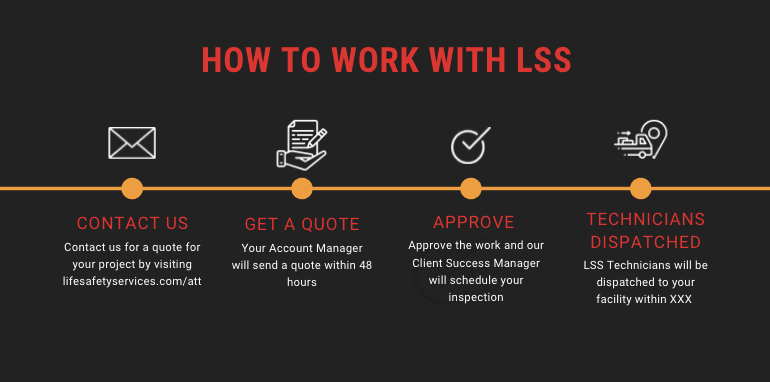 Please email your dedicated contact at:

[email protected]