New Construction Services
As high-rise and commercial construction continues to grow across the globe, implementing the appropriate code-compliant passive fire protection for new construction has never been more important. Regulatory agencies like the NFPA and the IBC require a building to have properly installed fire protection systems before certifying occupancy. In this case passive Fire Protection should be integrated into every new construction plan.
LSS' Services Provided for Your New Construction:
Firestop Installation and Inspection
Fireproofing
Photoluminescent Egress Marking Systems
Life Safety Drawings and Consulting
Commissioning Services: Smoke & Fire Damper, Fire Doors
Why Work With LSS?
LSS has worked with more than 4,500 clients nationwide, completing over 10,000 projects in a variety of industries. We are code experts, which is extremely important for assured building safety and maintaining compliance. Our technicians are trained and certified by the industry's leading manufacturers in installation of passive fire protection. In this case, the services include firestop, photoluminescent egress marking systems, and commissioning of fire and smoke dampers and fire doors. Because LSS has partnered with leading manufacturers, you can be sure you are getting the best product in the industry along with the manufacturer's warranty.
Who Does LSS Work With?
In fact, many parties have an interest in the new construction of a building, however, often with differing objectives. Therefore, we work with General Contractors, Subcontractors, Building Owners, and Building Management organizations to find the best passive fire protection systems for your particular build.
Firestop Installation and Inspection
The construction industry, in particular, will find many manufacturers of firestopping products. In this case, choosing the right product is a critically important task, ensuring the outcome achieves the required levels of fire resistance. Life Safety Services is an expert in specifying the most effective components to slow the spread of smoke and fire should the worst occur in your facility. LSS is FM Global 4991 certified with DRI certified managers on staff. Not only has all LSS installers been through OSHA 10-hour training but also STI FIT Level certified, and have extensive experience. LSS works with all major firestop manufacturers, including STI, HILTI, and 3M, and installs firestopping systems to:
Through-wall penetrations
Membrane penetrations
Head-of-wall & construction joints
Re-enterable high-volume cable solutions
Edge of slab
Regardless choosing the right product is a critically important task! LSS works with firestop manufacturers to ensure the required levels of fire resistance. By all means, LSS is an expert in specifying the most effective firestopping system to slow the spread of smoke and fire in your facility.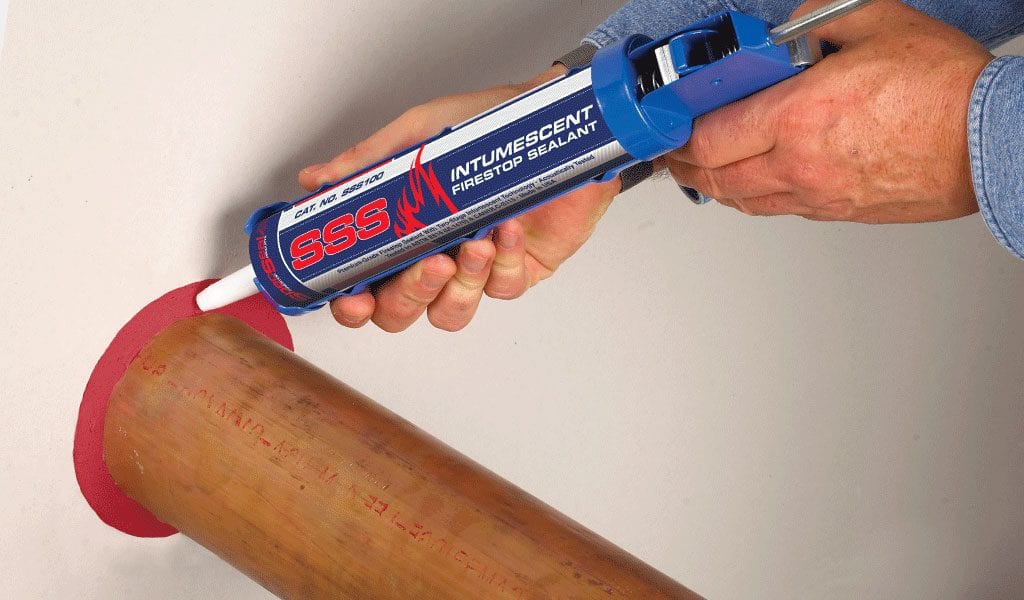 Photoluminescent Egress Marking Systems
LSS provides installation of photoluminescent egress marking systems (PLES) and photolum exit signs. All while in compliance with the International Building Code (IBC) and the International Fire Code (IFC). These code mandates that all non-residential buildings, both new and existing, and over 75 feet in height must install PLES in all enclosed emergency stairwells.
Not only, can LSS can install PLES according to code requirements for handrails, stair treads and landings but also, demarcation lines, exit door markings, direction signage, and obstruction markings.
LSS Meets These PLES Codes:
2009 International Building and Fire Code
2006 International Building Code
NFPA 101
State of California Building Code, Chapter 10, Means of Egress
State of Connecticut Building Code
New York City Building Code
General Services Administration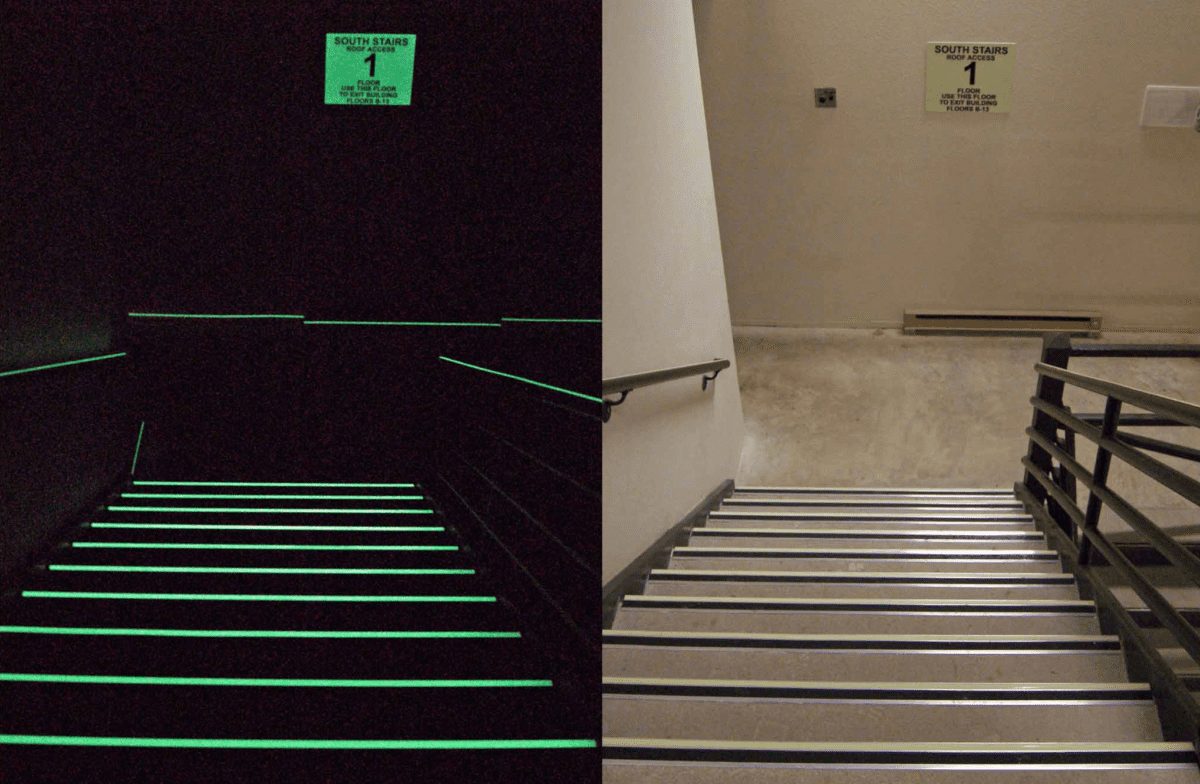 Life Safety Drawings & Consulting
Accurate Life Safety drawings are an important part of your Life Safety program. Whether you need to update existing drawings, or start from scratch, we can help you keep your facility safe and in compliance with up-to-date plans. Life safety drawings create an overlay of the facility's Life Safety features on the existing floor plan. Floor plan drawing service is also available. To begin with we will develop your Life Safety plans based on a thorough inspection of the above and below ceiling components of your facility. Then, we will document the locations and arrangement of your smoke and fire barrier walls as well as shafts, smoke compartmentalization, hazardous room protection, suites, means of egress corridors, exits, alarm systems, smoke detection and fire suppression systems.
Life Safety drawing components include:
Fire-rated walls (1 hour, 2 hour, etc)
Fire and smoke doors
Location of Fire and smoke dampers
Smoke barriers
Pull station Fire alarm locations
Locations of Fire extinguishers
Building exit locations
Hazardous area markings
Color-coded with drawing key
.pdf and .dwg files provided
Additionally, we will provide life safety consulting to ensure your building is ready for its AHJ inspection.
Commissioning Services: Smoke & Fire Damper, Fire Doors
Commissioning is a quality assurance service that ensures builders their smoke and fire dampers, and fire doors have been installed correctly and are working properly. LSS' Commissioning Services are based on NFPA Code 3, Recommended Practice on Commissioning and Integrated Testing of Fire Protection and Life Safety Systems. The code states that third-party test entities should have an advanced understanding of the installation, operation, and maintenance of all fire protection and life safety systems proposed to be tested.
Above all, Life Safety Services' possess vast experience in testing smoke & fire dampers and fire doors in large commercial facilities. As a result of extensive experience, it has demonstrated an excellent knowledge on NFPA Code 3 and other industry codes.